Emergency Management Agency Staff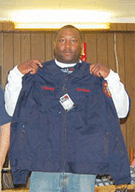 Mario Chapple
Director
Ext. 2203
The Hancock County EMA effectively manages a comprehensive emergency plan to promote a safer, less vulnerable community in Hancock County with the following resources:
Provide 24 hour, on-scene emergency response to emergencies and disasters
Provide 24 hour, on-scene emergency notification to response agencies
Provide liaison with local, state, and federal authorities during major emergencies and disasters
Develop, Coordinate, and conduct emergency management services
Make your own Ready Kit with items on the checklist below. Most of the items are inexpensive, easy to find, and any one of them could save your life. Once you take a look at the basic items, consider what unique needs your family might have, such as supples for pets, seniors or family members with special needs. Add those items to your kits and start packing it today.
Recommended Items
Water: One gallon per person per day, for at least 3 days, for drinking and sanitation
Food: At least a 3-day supply of non-perishable food
Can opener: For food, if kit contains canned food
Radio: Battery-powered or hand crank radio and a NOAA Weather Radio with tone alert, and extra batteries for both
Flashlight and extra batteries
First aid kit
Whistle. To signal for help
Face mask. To help filter contaminated air and plastic sheeting and duct tape to shelter in place
Moist towelettes, garbage bags and plastic ties: For personal sanitation
Wrench or pliers: To turn off utilities
Local maps
Additional Items
Prescription medications and glasses
Infant formula and diapers
Pet food, extra water, pet supplies, toys and vaccination forms.
Important family documents such as copies of insurance policies, identification and bank account records in a waterproof, portable container
Cash or traveler's checks and change
Emergency reference material such as a first aid book or information from Ready America
Sleeping bag or warm blanket for each person. Consider adding bedding in cold weather.
Complete change of clothing. Include a long sleeved shirt, long pants and sturdy shoes. Consider adding clothing in cold weather.
Household chlorine bleach and medicine dropper
Fire extinguisher
Matches in a waterproof container
Feminine supplies and personal hygiene items
Mess kits, paper cups, plates, plastic utensils, paper towels
Paper and pencil
Books, games, puzzles or other activities for children