Hancock County (est. Dec 17, 1793) was named after John Hancock of Mass., the first man to sign the Declaration of Independence. Sparta, The Seat of Justice in Hancock County, became a chartered town, Dec 3, 1803. Sparta was located at an Indian Trading Post and was in constant danger of border trouble, the town was named Sparta after the ancient Greek city of Sparta (known for it's warriors), to indicate the bravery of it's pioneer citizens.
ROCK MILL PLANTATION
---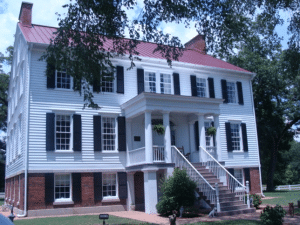 Rock Mill Plantation, built in 1810 in Jewell is a great example of the lovely antebellum homes located in Hancock County. On Sherman's "March to the Sea" the Union Army camped at Rock Mill. The legend is that Sherman sent one of his generals a Mason to burn the house. The general upon seeing a Mason symbol affixed above the door of the home could not burn the house. The general burned the mill instead so Sherman would think the house was burning.
OTHER HISTORIC SITES IN HANCOCK COUNTY
---